Jun 24, 2022
by Robert Gravelle
Supported Platforms and Databases, Plus SQL Editing
In this three part series, we've been comparing HeidiSQL, a free database client, with Navicat Premium. So far we've done a quick visual comparison and looked at both tools' pros and cons. In this final instalment, we'll be examining specific features, such as supported platforms and databases, SQL Editing, and more!
Supported Platforms
HeidiSQL was built for the Windows platform, and still only works on Windows. On the download page, there is a 32/64 bit combined (SHA1 checksum) Installer, Portable (zipped) versions for 32 bit and 64 bit, as well as the full source code. You can run HeidiSQL on Wine. Short for "Wine Is Not an Emulator", Wine is a compatibility layer for running Windows applications on several POSIX-compliant operating systems, such as Linux, macOS,and BSD. On Wine, HeidiSQL runs fine on Windows 8 and 10, but has minor issues on both Windows 7 and 11. Moreover, running HeidiSQL on any Wine release newer than 4.0 is currently quite unstable.
Navicat Premium is available for Windows (32 and 64 bit), macOS (64 bit), and Linux (64 bit). As such, each version of Navicat is optimized for that O/S. As a commercial product, Navicat comes with customer support. Users can also submit a ticket in the rare instance that they encounter a bug, to receive assistance in resolving it and have it fixed in the next patch or minor release.
Supported Databases
Initially, HeidiSQL offered support for MySQL and MariaDB, then added MS SQL Server. Now it includes PostgreSQL support as well.
Meanwhile, Navicat Premium is a Universal Database Tool, which means that it supports all popular databases, including MySQL, MariaDB, MongoDB, SQL Server, Oracle, PostgreSQL, and SQLite. It is also compatible with cloud databases, such as Amazon RDS, Amazon Aurora, Amazon Redshift, Microsoft Azure, Oracle Cloud, Google Cloud and MongoDB Atlas.
SQL Editing
Both Navicat and HeidiSQL's Query Editors are similar in terms of functionality. Both offer auto-completion and customizable Code Snippets that strip the repetition from coding. Here's a side-by-side comparison with HeidiSQL on the left and Navicat Premium on the right:
Each tool includes common SQL statements, functions, code snippets in the right-hand pane. Here they are with HeidiSQL again on the left and Navicat Premium on the right: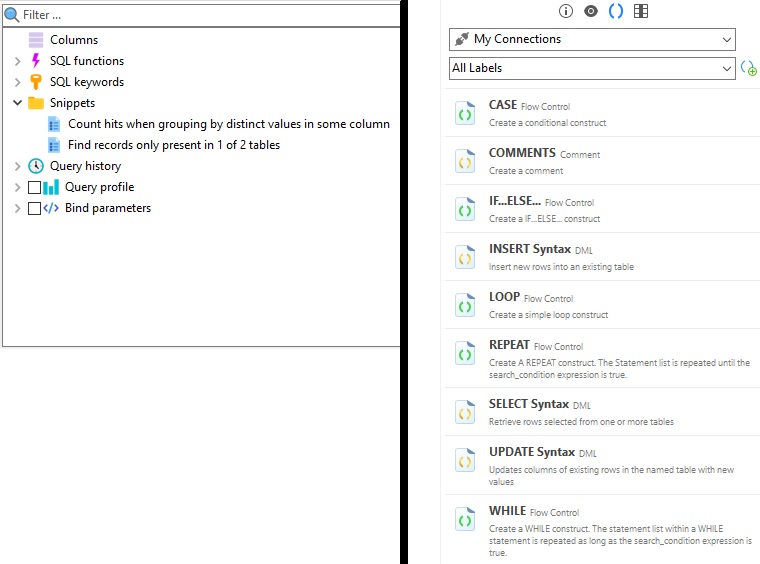 One Navicat tool that is absent in HeidiSQL is the Visual Query Builder. It allows anyone to create and edit queries with only a cursory knowledge of SQL: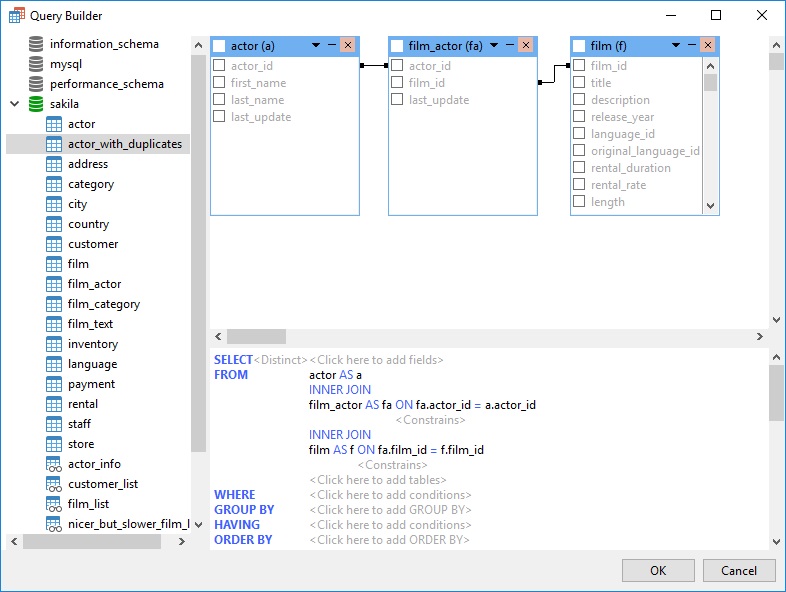 A Visual Query Builder is a must-have for many users, as is evidenced by a forum thread about that very subject on the HeidiSQL site.
Conclusion
In part 3 of this series on HeidiSQL vs. Navicat Premium, we examined specific features of both products, such as supported platforms and databases, as well as SQL Editing. While both share many similarities, there is no question that Navicat offers a more comprehensive array of tools and features, from the Visual Query Builder, to Navicat Cloud, to a dedicated support team. As we saw when we previously compared DBeaver to Navicat, Navicat Premium perfectly exemplifies the age old adage that you get what you pay for.