Jun 22, 2022
by Robert Gravelle
General Comparison
While HeidiSQL and Navicat Premium share many similarities, they are in fact different product types. Navicat Premium is what's known as a Universal Database Tool, which means that it supports ALL popular databases, including MySQL, MariaDB, MongoDB, SQL Server, Oracle, PostgreSQL, and SQLite. Moreover, Navicat is compatible with cloud databases as well, such as Amazon RDS, Amazon Aurora, Amazon Redshift, Microsoft Azure, Oracle Cloud, Google Cloud and MongoDB Atlas. HeidiSQL began as a MySQL/MariaDB client and evolved to suport a few additional database types. That being said, the two products are homogenous enough to warrant a side by side comparison. In this installment we'll be taking a high level inventory of pros and cons, while the next part will focus on specific features.
Visual Interface
A quick look at an application's visual interface, or UI/UX, as it's more commonly known, can instantly give us some idea about how easy or difficult the application might be to work with. With that in mind, here's a screen capture of HeidiSQL's Data view: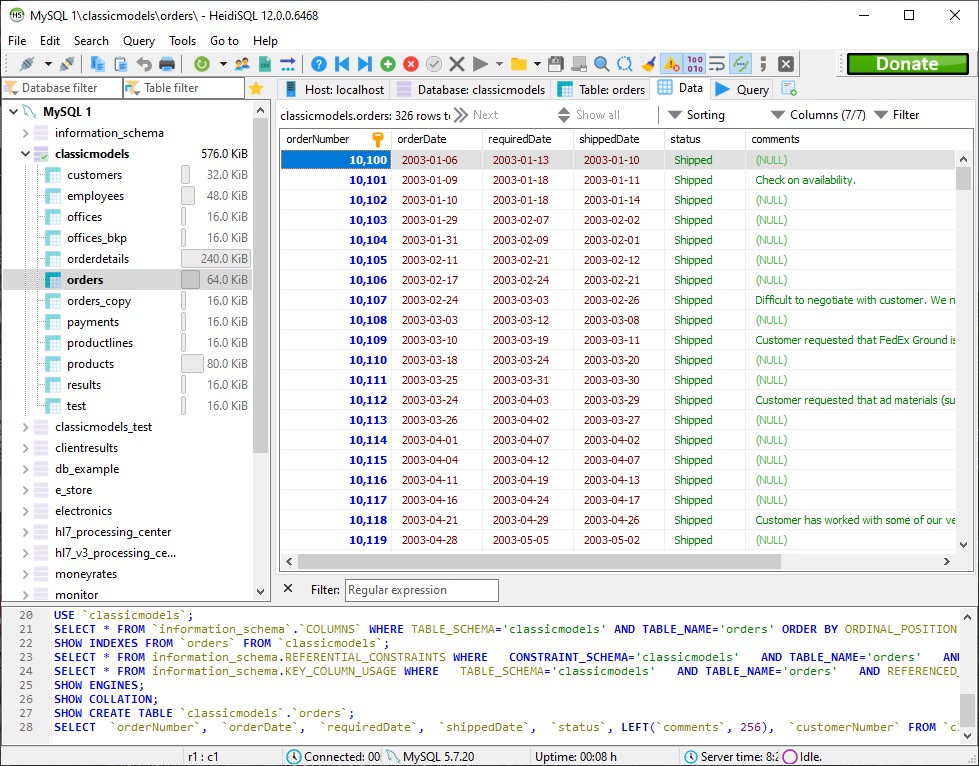 There is no question that the HeidiSQL UI is chock full of information. Perhaps a little too much, as some elements run out of room at smaller viewport sizes:

Aside from minor glitches, the overall design is excellent; there is a main toolbar for accessing common functionality, and the bottom pane shows all database commands in real time.
Navicat 16 saw a lot of changes to the GUI. In fact, it was completely revamped with the goal of improving the usability and accessibility, allowing the user to accomplish complex tasks faster than ever before: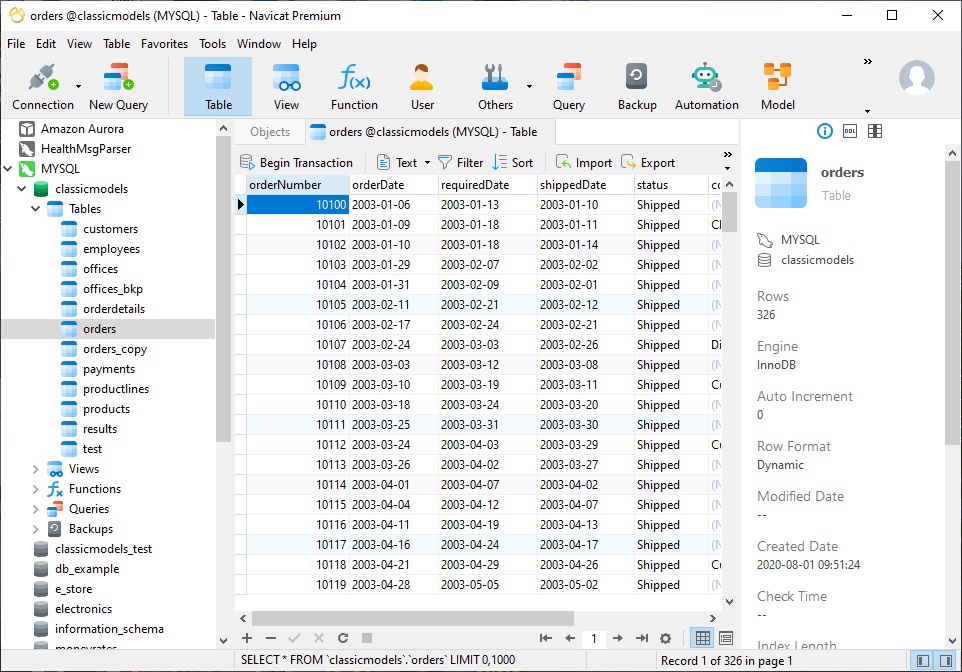 Navicat shows the latest database command at the bottom of the screen, and also includes additional table, column, and DDL information in the right pane.
Some Quick Pros and Cons
Now, let's run through some pros and cons of each product. First, HeidiSQL:
Pros:
It's lightweight.
Connects to multiple servers in one window.
Free to use – Licensed under GNU GPL. The source code is also available.
Available in a portable version.
Full database user roles and privileges management.
Write queries with customizable syntax-highlighting and code-completion.
Data synchronization. HeidiSQL can compare and synchronize your data and structure between local and remote databases.
SSH tunneling support
Cons:
Low stability. HeidiSQL is known to have a lot of bugs that result in frequent crashes.
It's only available for Windows and it doesn't look like a cross-platform is coming anytime soon.
No built-in debugger included
Low DPI display. (DPI stands for dots per inch and it determines clarity and crispness to a display.) The author attempted to add high DPI but wound up dropping it.
And now, Navicat Premium:
Pros:
It's cross-platform and supports multiple drivers.
Data and structure synchronization.
Visual query builder and report builder.
Excellent import/export capabilities.
SSH tunneling and SSL (Secure Sockets Layer) support
Supports many languages, including Polish, Russian, Japanese, Portuguese, Korean, Simplified Chinese, Traditional Chinese, Spanish, French, and English.
Compatible with other Navicat products, including Navicat Monitor, Navicat Data Modeler, Navicat Report Viewer, and Navicat Data Modeler Essentials.
Cons:
It's a commercial product. Perhaps a con if you're on a very limited budget and need to work with multiple database types, such as PostgreSQL, SQL Server, or SQLite. In that case, you would have to purchase the Navicat premium package.
It's somewhat resource-intensive as it requires fairly high memory while running.
Coming Up...
In part 3, we'll be examining specific features, such as supported platforms and databases, as well as SQL Editing.